"Prayer…is simply a conversation in which the soul lovingly speaks with God concerning His most loving goodness, so as to be united and joined to that goodness." (St. Francis de Sales)
By vocation, the Sisters are called to the contemplative life, and prayer is at the center of their existence. Visitation Sisters spend an hour and half each day in mental prayer. Private prayer prepares and prolongs liturgical prayer.
The Holy Sacrifice of the Mass is celebrated as the high point of the day, the mystery in which God really gives Himself and gloriously communicates His graces and favors to us. In this mystery of Unity, the Sisters realize their desire to save the whole world with Christ.
Our special vocation in the Church of chanting the Divine Office five times a day. This prayer expresses the adoration, praise, thanksgiving, and supplication of all humankind. It is an obligation of love and service in the Church, and it is normally celebrated in choir, and our choir stalls are nearly 600 years old .( see 2016 article from Institute on Religious Life).  Since the Hours sanctify the whole day, we observe the time that corresponds most closely to the true time for each canonical Hour.
Spiritual reading is made for a half hour each day, usually in private, daily reading of the Word of God is essential for contemplation. Reading the great spiritual masters, especially their Founders, will contribute considerably to developing in them a sense of God, and the knowledge necessary for their Religious Life.
A life ordered to contemplation requires silence and recollection, silence in speech and action, and still more interior silence implies patient asceticism. Indeed, true interior silence is not empty, but implies a living presence to the Living God. Silence is observed most of the day outside of recreations.
In their relations with one another, the Sisters should be humble, sweet, cordial and open. Let them bear to one another great respect, not so much in gestures, looks and words, as truly in mind and heart, each one recognizing God in her Sisters. (Constitutions)
The Sisters earn their own living by providing Altar Breads for many parishes of the Archdiocese. Work can take many forms, as needed: such as cooking, making our Habits, Sacristy work, cleaning, gardening, maintenance of the Monastery, planning liturgies, assisting the sick Sisters, shopping, as well as music (organ, zither, guitar, etc.) art (painting, drawing, ceramics) flower arrangements for the Chapel, needle arts We are planning to reopen our creativity in ceramics
the Sisters recreate together twice daily, to foster a true family spirit. We also have some extraordinary recreation days for the Novitiate Sisters, as well as for the Community, such as Jubilee, Profession, Novice Mistress and Superior's Feast Day, July 4, etc.
At the end of the daily recreations, the Superior or any Sisters make announcements , prayer requests, and concluded with the Presence of God, assigned weekly to a particular Sister.
What a joy it is to introduce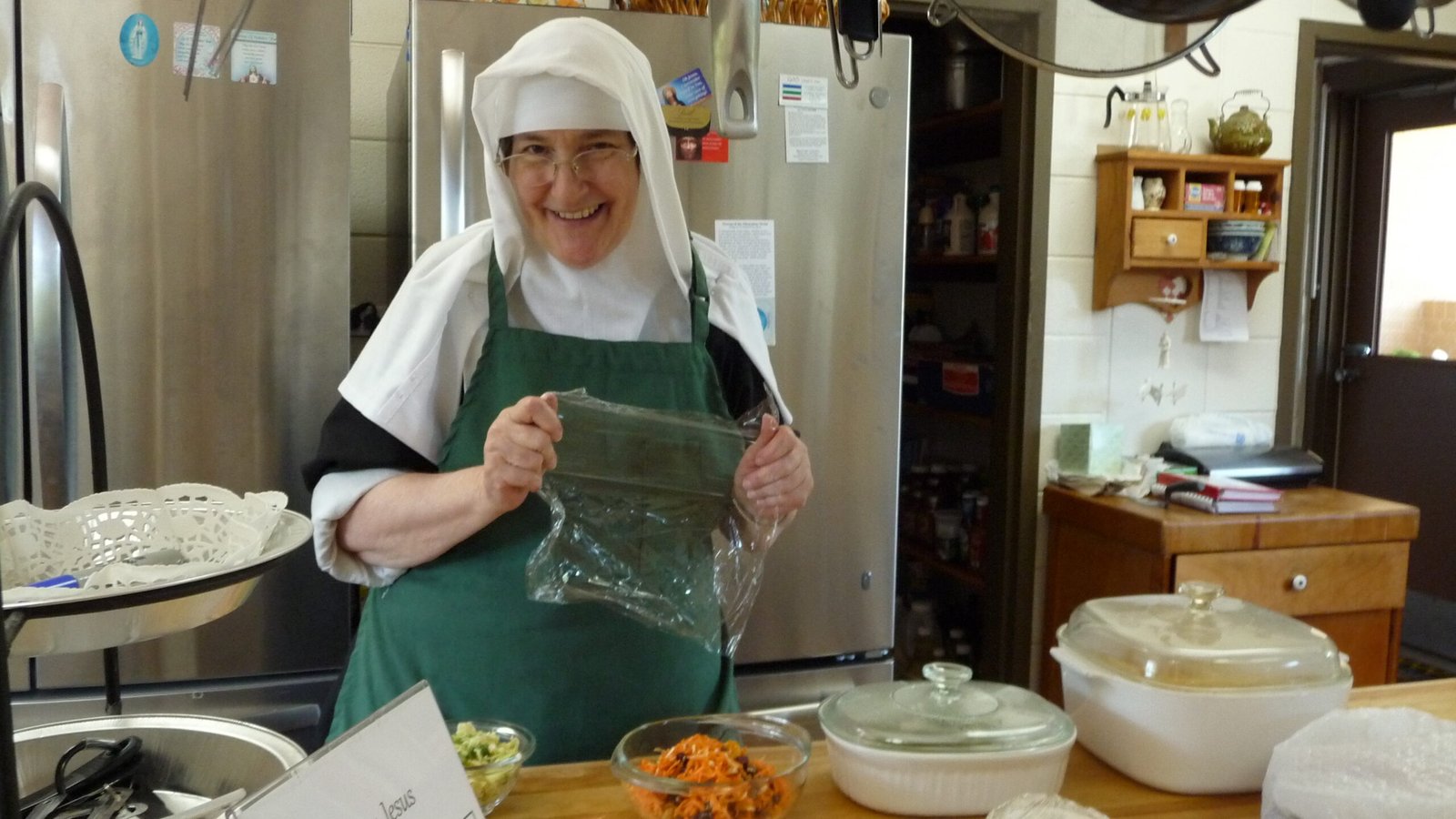 05:30 AM         Rise'
06:00 AM         Meditation and silent prayer
06:55 AM         Office of Morning Prayer
07:30 AM         Holy Mass
08:30 AM         Breakfast
09:00 AM         Novitiate classes
10:00 AM         Office of Readings
10:30 AM         Work time
12:00 PM          Dinner
01:15 PM          Recreation
01:45 PM          Office of Daytime Prayer
02:15 PM          Rest / work
03:00 PM          Spiritual Reading
03:30 PM          Tea or coffee followed by work
04:30 PM          Exposition of Blessed Sacrament
05:00 PM          Office of Evening Prayer
06:00 PM          Supper
07:15 PM          Recreation
08:00 PM         Office of Night Prayer
10:00 PM         Lights out
The following are considered signs of an authentic vocation:
A life of intimacy with the Lord, shown by clear conversions;
An openness to truth as it comes through words and events
A spiritual freedom, acquired gradually through mortification of defects and passions arising from temperament, personal history, family background, etc.
A forgetfulness of self so as to enter into the concerns of others, Community demands, and the life of the Church.
"A good vocation is simply a firm and constant will to serve
God in the way and in the places where Almighty God has called her."
The principal end for which this Congregation was instituted to preserve the spirit of charity in receiving the infirm, and those of weak constitution, especially those who would be of a generous spirit, and aspire to holiness, with a firm determination to follow after true spiritual virtues; otherwise their retreat would be without fruit to themselves, and of great prejudice to the Monastery. As for widows, they are to be well examined, and care is to be taken that they are not tender about their children, nor too much attached to their own judgment; nor to what they have left in the world.
Copyright © 2023 MARYFIELD VISITATION MONASTERY. All Rights Reserved.